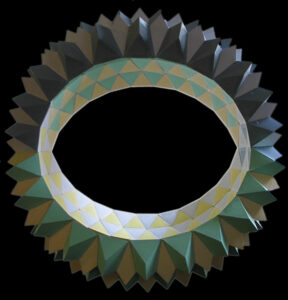 New form technology is a way of exploring across the boundaries between art and science, matter and spirit, ideal and real, and self and other.  This process unfolds and evolves through many stages, yielding new insights, directions for new artistic explorations and practical applications.
Call for Contributions
Anyone interested in this kind of work is invited to become a part of the creative stream by submitting works that build on the principles, forms, and methods that underlie new form technology.  Appropriate submissions will be displayed here as a part of the evolving community of artists, scholars, scientists, and lay persons who find inspiration in meaningfully working with forms and ideas in the ways demonstrated on this site.
Frank invites you to attend the Wednesday open workshop sessions at the New Form Technology Research Center to collaborate on research.  Please click here to contact Frank if you are interested.
---
Current Artists
Seth Miller      Ross Barrable      April Nichol
---